Age: 13 months-3 years
This room features 2 teachers caring for 10 children. Your child will have a variety of opportunities to explore and learn both indoors and outdoors through planned activities and spontaneous play. Throughout the day your child will participate in a multitude of engaging gross motor and fine motor activities to help those little hands and feet grow. Being such a busy age, there are many opportunities to rest including taking a nap after lunch. Throughout their time in the toddler room your child will transition from diapers to being potty trained and from highchairs to sitting at the table!
Music program: Every week our music teacher, Dawn, comes in to teach us new songs and dances with the Transition group. Music is a very important part of our development as it is linked with vocabulary expansion, number skills and gross motor skills.
A Typical Day At Brookview In The Toddler Program: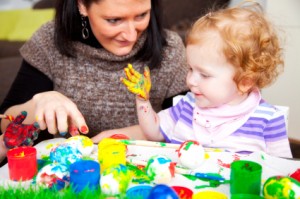 When the child enters in the morning, he is greeted by his teachers, and then he/she is given the freedom to explore the various learning activities and interest centers that have been prepared before his/her arrival: House Keeping/Dramatic Play Center, Manipulative toys, cars, trucks, dolls, playdough, drawing, etc.  Throughout the day the children enjoy two healthy snacks and a nutritious lunch.  The children have daily opportunities for outdoor play until the weather is – 15°c.  The staff plan bi-monthly covering all areas of development; cognitive, social, emotional, physical and creative.
Our toddler room is set up for ease of movement and safety with all those new walking feet.  A teacher is always nearby to support when the child when needed.  The children are given time to grow, room to explore, experiment, to discover, to play and to be a child.
Related Documents To This Program:
Ready To Join? Get On Our Waiting List!
We look forward to caring for your child and hope that your time with us will be a positive life experience. Please feel free to approach anyone of us at anytime at the Centre. Any questions? Phone us at 436-4504 or fill out our online waiting form.