Since  1994, Brookview Montessori Child Development Centre has been serving the Edmonton communities of Riverbend, Terwillegar and surrounding area. 
We are a privately operated centre with over 20 years of experience. We strive for excellence and as a result were the first of twenty centres to become accredited through the Accreditation of Early Learning and Care Services in 2005. We have had an exciting 2 decades of providing care and guidance to thousands of children and families, many of which still keep in contact with us about their child's continuing achievement.
Our teachers are educated and trained through various institutions and are certified through the Government of Alberta. They continue to expand their knowledge through a variety of professional development opportunities that address innovations in child development programs.
Our Mission:
To provide quality child care promoting development in all areas of a child's life. 
Our Vision:
Through collaboration with families and communities we support the creative, physical, intellectual, emotional, and social development of every child.  We will encourage children to explore their interests through developmentally appropriate activities and provide positive guidance to promote their self-esteem and self-efficacy.
Our Philosophy: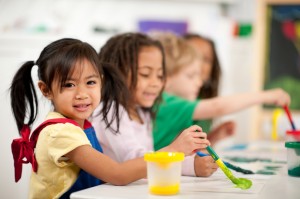 At Brookview Montessori Child Development Center our philosophy is based on "Learning through Play".  The primary focus of the Montessori program is intellectual development of good work habits.  In order to enhance the children's development as a whole person, we offer a variation of the Montessori program that is more flexible.
The Montessori Method is based on the prepared environment, a carefully planned arrangement of surroundings, equipment and materials.  We foster moral development and emphasize cooperation, self-control, order, responsibility, patience and common good. We believe, as Maria Montessori did, that children learn best by being active and by doing.
Our goal is to provide an environment that will enable the child to develop to his/her optimum potential in all aspects of development. Our qualified staff members facilitate this environment and work to enhance the children's sense of self-respect, self-control, responsibility, and independence.
Our Menu:
Daycare:
We have an onsite cook to provide your child with a healthy diet, according to the Canada Food Guide. Your child will receive a nutritious morning snack, lunch, and afternoon snack. Our meals are balanced and child friendly and include seasonal fruits and fresh vegetables with a limit placed on sugar, salt and saturated fats. Our menu is on an 8 week rotation to provide your child with variety.
Out of School Care:
Your school aged child will receive a balanced morning and afternoon snack daily. Your child will receive lunch on PD days, early dismissals, and throughout the summer months.
Sometimes, our summer fieldtrips require us to bring our snacks or lunch with us. In this case we bring easily transported foods like sandwiches and wraps with a side of fruits or vegetables.
We Look Forward To Hearing From You!
We look forward to caring for your child and hope that your time with us will be a positive life experience. Please feel free to approach anyone of us at anytime at the Centre. Any questions? Phone us at 780 436-4504 or fill out our online Contact on the right hand side.